Design & Identity
Research focus point
Identity politics meet personal branding | Ethical on your very own conscience | The economics of hope as negotiated between the velocity of upward mobility and the
contentment of opulence.
Ni Sawa Hasa! Kiswahili expression for "couldn't be better!"
Taking its name from a very optimistic 1980s East African Sportsman Cigarettes advertising slogan, the magazine title aims to revive and give continuity to the campaign's enthusiasm.

Formatted as an identity monograph and existing between the intersection of analog and graphic Illustration, the thesis employs multiple stream of conscious comics, collages and multilingual texts based on the fragmentation of identity and aesthetic heritage that accompany migration and the diaspora experience.

Concept is guided by European design methods and how these intersect with Pan-African media histories and support intercultural design as a whole.

Ni Sawa Hasa! Is now a part of the Kunsthochschule Kassel (Art University of Kassel) Library.
Research
Globalisation & Design Methods
Digital Exhibit
Casting screens contribution for
Klasse Digitale Grafik of HFBK Hamburg within the Hamburg Open Online University framework
(2019)
How do artists process and explore digital culture through screen recordings? What is the role and relevance of screencasts as an artistic medium for the depiction of digital culture? In which ways is this relatively young medium being used artistically?

--------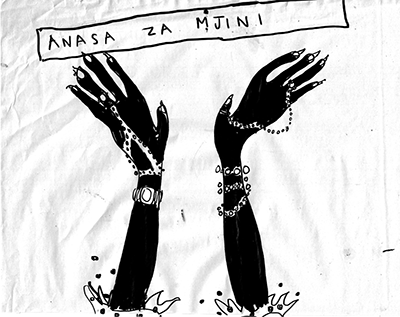 Lectureship
An Introduction to the Contemporary Postcolonial
Pop Culture (2016/7) | Theory & Praxis of Visual Communication, Art University of Kassel


Are all foreigners in the west urban? Are they all graffiti artists and rappers? Do they speak the same vocabulary as American musical and visual pop artists? Or are they producing work that is fuelled by different aesthetic vocabularies? Are their ideas built entirely on the foundations of western pop genres? Or are they referencing images and experiences mainstream global media hasn't discovered yet? How does one tell the story of migration without making it sound like a charity advert?

Workshop
In der Übung | im Workshop werden Arbeiten von Künstler*innen vorgestellt, die in der Diaspora mit Popkultur-Referenzen produzieren, und es werden, auf der Grundlage der gemeinsamen Diskussionen, eigene Arbeiten entwickelt.


Image: [The gif's text is Swahili and translates loosely into "the things that happen in the city", reflecting on the rural-urban migration in Kenya to Nairobi …the city, the place where cultures change…]




Art Direction
Kassel Postcolonial
in corporation with the Department for Development and Postcolonial Studies and Theory & Practice
of Visual Communication, University of Kassel (2016/7)
Conceptualisation and realisation of the Kassel Postcolonial online identity. This involved an intense analysis and deconstruction of the aesthetic language as seen in the library of the Former Deutschen Kolonial School in Witzenhausen, combined with a heightend awareness of intercultural online trends.
Presentation
dokumenta 14, The Parliament of Bodies | As part of the interdisciplinary creative team from both the Department for Development and Postcolonial Studies and Theory & Practice of Visual Communication, University of Kassel
(2017)
What is the role of the designer when it comes to the deconstruction and construction of stereotypes? To what extent can a designer use design tools eg. software, scanner, printer inter alia and methods such as editing, reduction, pixelation and abstraction to interpret and dismantle debasing trends.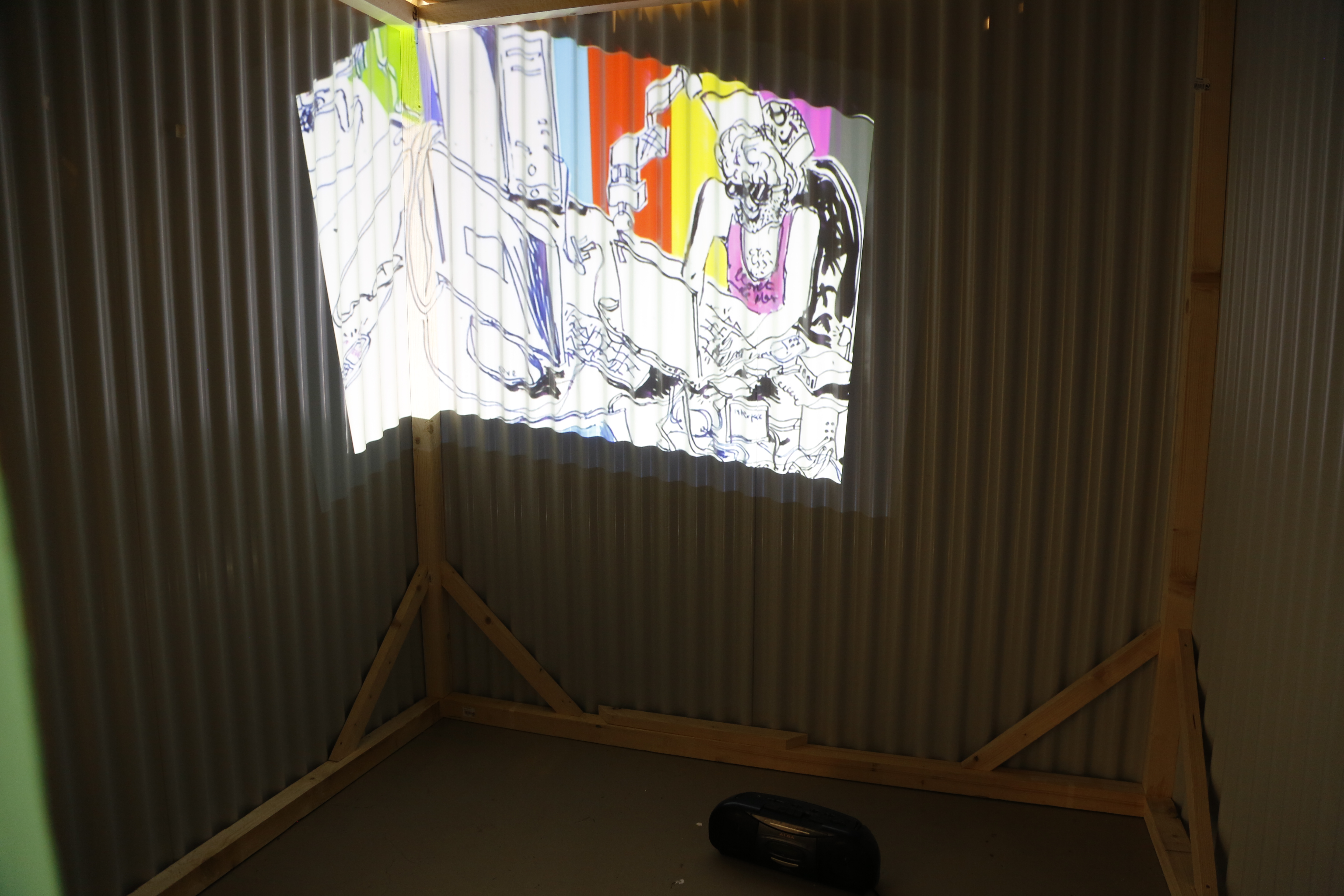 Installation
Heim@ | Dokumenta-Halle Kassel | Examenausstellung (2014)

A hommage to corrugated iron and its aesthetic significance within "Making it" culture and also as a reference to informal economics. Where do your dreams live you, you foreigner? Where does your heart go when you watch ZDF Herzkino? Is the dream fleeting and makeshift? Where do you house your Western Union remittances? afterall, these days, home is online, right?"

#glamoursingAusländer
#places to stay while developing, #hustle, #migration, #briefcase_office, #Africarising, #Nairobi, #The WholeWorld_is_RunByAnNGO, #where_do_you_belong, #remember_homezone?,#microcredit, #home_is_where_Wlan_is, #BrennXpunktkind,#Stern, #Integrationscourse, #Niederlassung, #dual_citizenship, #touch_screenaway, #family_conference_calls,

Statement Jewelery
Listen Up! in collaboration with Wildwood Gallery & Store (2013)
Earring Pieces made in reverence of those who seek a supposed socio-political truth. The one-piece earrings imitate comic balloons that traditionally express volume or explosive action.
Corporate Identity
(2012 - 2018)

Supporting and implementing The City of Kassel's Ott+Stein Project-Klasse's Stadt Kassel visual identity in co-operation with Kasseler Übergangsmanagement ; Schule-Beruf ( Transition Management ; School - Trade).
Linkedin