Design & Identity
If art suggests the impossible, then design shapes the utopia.
Since a childhood love for magazines, television and an exciting internship at DDB CCL Kenya, Eve Wangui's passion for vibrant and dynamic images has evolved into a portfolio of eclectic editorial, illustration and social projects. She yearns to implement intuitive concepts and dare to suggest new perspectives.
Wenn Kunst das Unmögliche propagiert, dann liefert Design die Form der Utopie.


Am Anfang, in der Kindheit, war die Liebe für Zeitschriften und das Fernsehen, dann ein aufregendes Praktikum bei DDB CCL Kenya. Seither drückt sich Eve Wangui's Leidenschaft für das belebte, lebendige Bild in einem Portfolio mit eklektischen Editorials, Illustrationen und sozialen Projekten aus. Und weiter treibt es sie an, intuitive Konzepte zu entwerfen und einzubringen und den Mut zu haben, neue Blickwinkel zu wagen.
Design
Monograph
Ni Sawa Hasa! couldn't be better!
(2014)
A multilingual thesis monograph that focuses on how the migration of people and ideas transform the perception of popular culture and thus transforms design elements. The layout, colour palettes and texts aim to embrace and reflect the dynamism of translating between different cultural codes and lingos; on one hand German minimalism versus the saturated vitality of pan- African media.
Links:
Installation
Das Kasseler Übergangsmanagement Schule - Beruf
Transition Management
School - Profession
Kassel

Design & Illustration
link
Medium Magazine
(2010 - 2013)

Art direction for Kassel AStA Student Magazine



Listen Up! (2013)
Earring design collaboration with Wildwood Gallery. "Dont just believe the hype*...listen up! and imma shout out!"
pic: Ze Rebelle
Links:
Wildwood Store
Research
Globalisation & Design Methods
Workshop
An Introduction to the Contemporary Postcolonial
Pop Culture (2016/7)



Are all foreigners in the west urban? Are they all graffiti artists and rappers? Do they speak the same vocabulary as American musical and visual pop artists? Or are they producing work that is fuelled by different aesthetic vocabularies? Are their ideas built entirely on the foundations of western pop genres? Or are they referencing images and experiences mainstream global media hasn't discovered yet? How does one tell the story of migration without making it sound like a charity advert?


In der Übung / im Workshop werden Arbeiten von Künstler*innen vorgestellt, die in der Diaspora mit Popkultur-Referenzen produzieren, und es werden, auf der Grundlage der gemeinsamen Diskussionen, eigene Arbeiten entwickelt.

Links:
Theory & Praxis Kunsthochschule Kassel

Image: [The gif's text is Swahili and translates loosely into "the things that happen in the city", reflecting on the rural-urban migration in Kenya to Nairobi …the city, the place where cultures change…]
Digital documentation
Casting screens
Klasse Digitale Grafik of HFBK Hamburg within the Hamburg Open Online University framework
(2019)
How do artists process and explore digital culture through screen recordings? What is the role and relevance of screencasts as an artistic medium for the depiction of digital culture? In which ways is this relatively young medium being used artistically?

Link
Art Direction
Kassel Post Kolonial
(2016/7)
A website design that involed an intense analysis and deconstruction of the aesthetic language as seen in the library of the Former Deutschen Kolonial School in Witzenhausen combined with a heightend awarness of the colour schemes of contemporary online Africa.
Talk
Dokumenta 14 / The Parliament of Bodies
(2017)
What is the role of the designer when it comes to the deconstruction and construction of stereotypes? To what extent can a designer use design tools eg. software, scanner, printer inter alia and methods such as editing, reduction, pixelation and abstraction to interpret and dismantle debasing trends.
Link:
documenta 14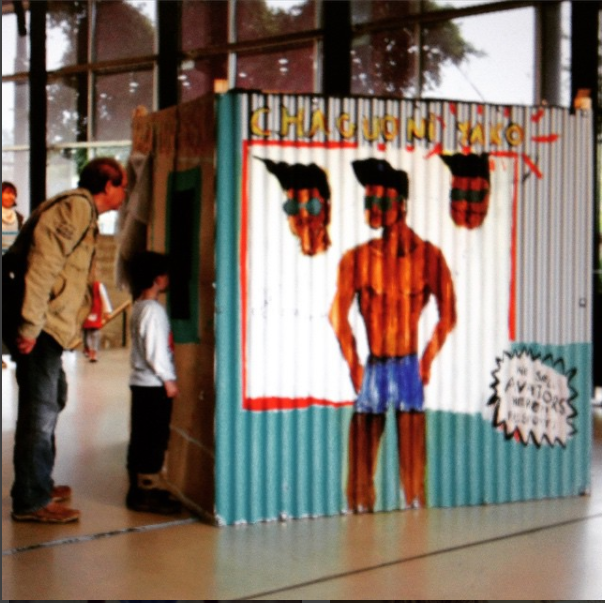 Installation
Heim@ / Dokumenta-Halle Kassel / Examenausstellung (2014)

A hommage to corrugated iron and its aesthetic significance in the architecture of upward mobility and informal economics. One has to start somewhere..and afterall these days home is online, right? ...hashtag# places to stay while developing, #hustle, #migration, #briefcase_office, #Africarising, #Nairobi, #where_do_you_belong, #remember_homezone?,#microcredit, #home_is_where_Wlan_is, #Brennpunkt,#Stern, #Integrationscourse, #Niederlassung, #dual_citizenship, #touch_screenaway, #family_conference_calls, #glamoursingausländer


Collaboration
Film & Identity
Mockumentary
Vaterlandsliebe & Schwarz Weiß Deutsch (2012)
with Nico sommer and Fabian Puschel


"Jens is tolerant, tall and good-looking. His big honesty and loyalty to Germany brings him increasingly problems. Many people think he is a Nazi, although he only loves his native country..."

Awards:
1st place Der Landeszentrale für politische Bildung,
Audience Award Haydauer Filmtage,
Nomination First Steps Award Germany, 2. place Independent Days.
Schwarz Weiß Deutschland
Awards:
Prizes Shortcutz Berlin Best short film
Special mention in the Hannover Up and Coming more




For a full CV, please write me at evelynlayout@googlemail.com